The SOS button is a physical button located on the back of the telephone. If you find yourself in an emergency, just by pressing this button for a few seconds, the telephone will automatically make a call and send an emergency SMS to up to 5 numbers.
You need to configure the SOS emergency numbers to make use of this functionality.
Configuration of SOS numbers:
Via "Menu"-->"SOS":
Set the status of the function in "Setting >SOS": Checkbox activated or deactivated. Also the activation/deactivation of the SOS Siren.
Configure the emergency numbers in "SOS Numbers" (1 to 5).
Set the SOS message. Enter the help message that will be sent to the SOS numbers: By default, "SOS!".
Using the SOS function: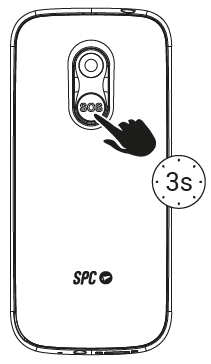 During an emergency, press and hold the SOS key for a few seconds.. The terminal will emit an alert sound (horn) and the call cycle will start. The telephone will activate the loudspeaker and call the SOS numbers in consecutive order until one of them answers. If there is no answer, it will skip to the next number until one of them answers. This cycle will repeat 3 times.
*Warning* If a number on the list has voicemail, the cycle will end.