Call
This telephone is 4G, and is capable of connecting to 2G, 3G and 4G mobile networks. This allows you to have better mobile coverage. In addition, on 4G networks it supports HD, High Definition voice, which represents a significant improvement in the quality and clarity of telephone conversations.
To make a telephone call, when using two SIM cards, the telephone will request confirmation of the SIM card with which to make the call.
During a call, you can make and receive more calls from/to the same number, but you cannot make or receive calls from the other SIM card.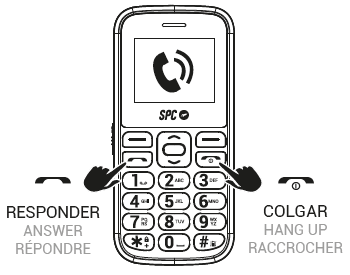 1. Dial the number you want to call.
2. Press "Delete" to delete incorrectly entered digits.
3. Press

and select the SIM card with which you want to make the call. Pulsa

.
4. When you make the call, if the number is stored in the phone book, the name of the contact and its icon will appear on the display.
5. Press

to end the call.

Call a contact from the phonebook
1. Press "contact list" from the home screen using the right function key. The display will show the list of contacts in alphabetical order.
2. Use the up/down keys to scroll through the list to the desired contact.
3. Press the call key

to call the selected contact.
4. Press the end call key

to end the call.

Call from the log
1. With the telephone in standby, press the

key to call the selected contact. You can also access the log from the main menu, via "Calls"
2. Use the navigation keys to scroll through the list, select a record and press

to call.
Make a call with speed dial:
For speed dialing, the telephone has eight indirect memories.
Indirect memories or speed dial numbers are those that are activated by pressing and holding one of the digits 2 to 9. To configure these numbers it is necessary to have a SIM card installed and go to Menu -> Agenda -> Options -> Others -> Speed dial and Set the desired numbers. Number 1 is reserved for voicemail.
Answer/reject a call
When you receive a call, the number or name and icon will be displayed on the screen. Press the

to answer or

to reject the call.
During call
During the conversation, press the central button to activate hands-free mode. Pressing it again returns to normal mode.
During the conversation, press "Menu" to access the various options::
Connect Bluetooth headphones
Add new call
Hold call
Start recording
Mute the microphone
Adjust call volume
Contact list
Calls
Messages
Missed calls indicator
If you have one or more missed calls, a notification message will appear on the screen and an informative icon at the top of the screen. Accessing Menu>Calls>Missed calls, these calls are displayed.