In this guide you will find all the features of your MAGNES 3 camera.
Once the installation is finished, you have your home or office under control, even if you are
miles away.

Take care of your home, your office, your pet, or check that everything is going well at the home of elderly family members and all with a couple of taps on your smartphone or a couple of voice commands.

To do this, you can use the SPC IoT app or you can integrate it into your Alexa account using the Alexa skill or into your Google Assistant account, through the Google Home SPC IoT action.
Your camera panel
If you want to access all the functions of your MAGNES 3 camera, we recommend that you open the SPC IoT app and, in the list of devices linked to your user account, click on the camera you want to access.

Pressing on the camera opens its panel, which gives access to all the functions.
This panel shows:
Video capture in real time
The shortcut bar
The functions menu
Access to the Settings menu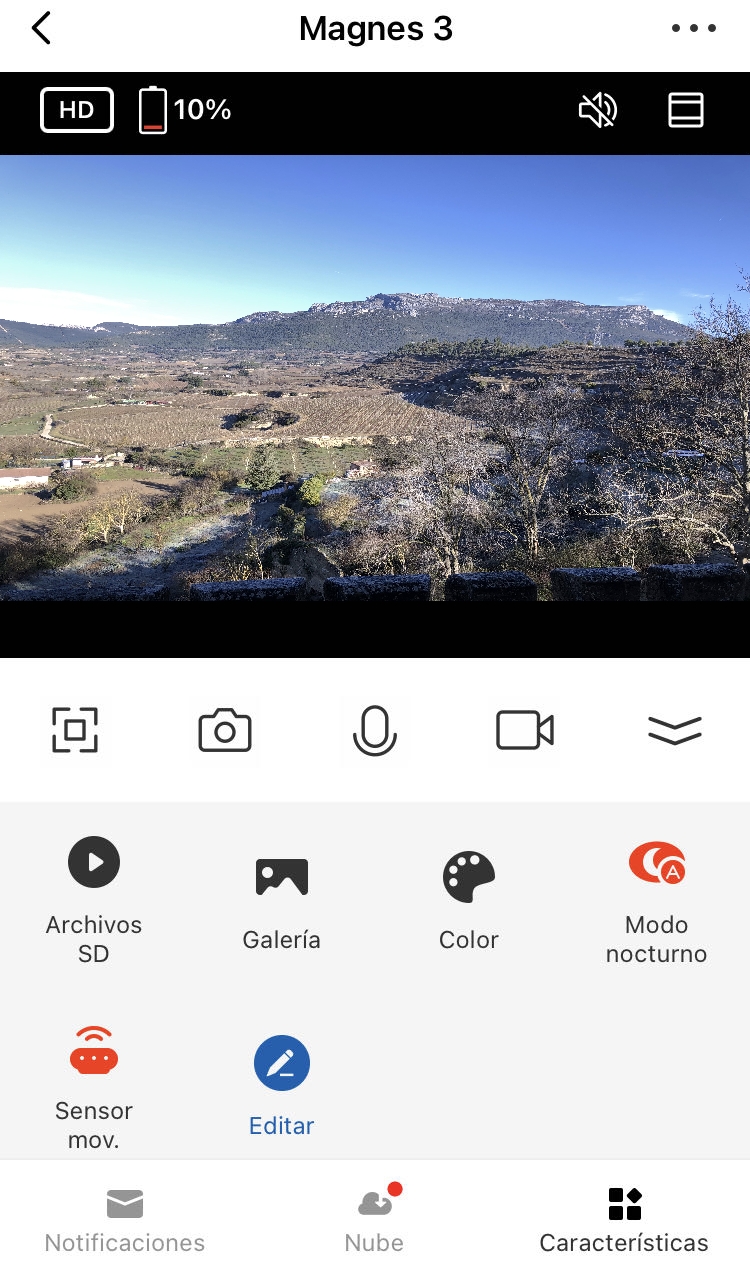 Shortcuts Bar
Allows access to the most common functions of the device:

Take a snapshot
Record a video
Voice communication
Full screen video
Functions menu
The menu consists of 3 tabs:

Notifications: Collect all notifications from camera activity logs.
Cloud: access all the recordings in the cloud (to contract the cloud service, go here artículo).
Features: contains the controls for the advanced functions of your camera.
Motion detection
Your camera includes smart algorithms to detect movement, as well as to send you a notification if you wish. You can manage this option from the 'Features' tab of the 'Features Menu'.
Check all notifications in the notification center of your smartphone or from the 'Notifications' tab of the 'Features Menu' within the SPC IoT app.
Comunicación bi-direccional
Tu cámara cuenta con un micrófono de gran sensibilidad, lo que le permite grabar vídeos con sonido, pero también
incorpora un pequeño altavoz para enviar un mensaje disuasorio ante una intrusión o incluso te permite usar la cámara como intercomunicador.
Puedes acceder a esta función desde la 'Barra de accesos directos' en tu app SPC IoT.
También puedes elegir entre una comunicación tipo 'Teléfono' donde ambas personas pueden hablar de forma simultánea (Full duplex) o tipo 'Walkie talkie' (Half duplex) donde solo puede hablar una persona cada vez. Set the 'Audio Mode' in the 'Basic Function Settings' option of the 'Settings Menu'.
Night mode
Your MAGNES 3 camera watches day and night, offering you a high-quality image, also in night mode.
You can activate this function from the 'Features' tab of the 'Functions menu'.
Multipantalla
Tu cámara es compatible con el modo multipantalla de la app y es que, en el caso de que tengas más de una cámara, podrás visualizar todas de forma simultánea en una misma pantalla.
Integración en Alexa
Si eres usuario de Alexa, puedes controlar tu cámara desde un altavoz compatible mediante comandos de voz.
Para ello, accede al 'Menú de Ajustes' de tu cámara y activa la skill SPC IoT en tu cuenta de Alexa.
Integración con Google Home y Google Assistant
Si eres usuario de Google Home y Google Assistant, activa la acción de Google Assistant SPC IoT desde el menú de Ajustes de tu cámara y podrás interactuar con ella a través de tu cuenta de Google.