BLUETOOTH MODE
Your SPC SOUND MINIMAX supports Bluetooth version 5.1
FIRST PAIRING
Through a music player with a Bluetooth connection (Smartphone, Tablet, MP3, MP4...) you can listen to your music on your SPC SOUND MINIMAX.
To make a new connection with your SPC SOUND MINIMAX via Bluetooth, you will have to activate the Bluetooth connection on both your SPC SOUND MINIMAX and your audio player. Once these connections are activated you will have to search for your SPC SOUND MINIMAX in the list of Bluetooth devices detected by your audio player in the Bluetooth menu. After selecting your SPC SOUND MINIMAX, the speaker will emit an established connection sound.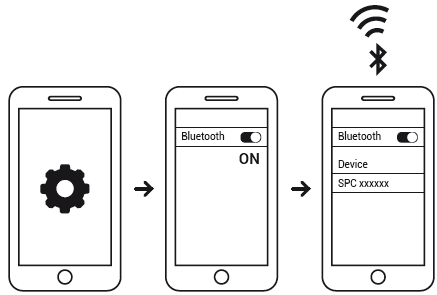 WHAT CONTROLS DO I USE IN BLUETOOTH MODE?
The Bluetooth playback mode controls are as follows.
add: Press to increase volume. Press and hold for next song.
remove: Press to reduce the volume. Press and hold for previous song.
power_settings_new : Pause playback. Press it again to resume playback.
TWS CONNECTION:
Your SPC SOUND MINIMAX supports TWS (True wireless) connection, which allows two speakers to be linked together to play music in stereo.
Speakers must be disconnected from any other devices before TWS pairing.

Turn on the 2 SPC SOUND MINIMAX and keep them close.

They will automatically try to link to each other. Upon successful pairing, you will hear a notification and the second speaker's status light will be constant.

Now your speakers will connect to each other automatically every time you turn them on.

Turn on bluetooth on your device and select SPC SOUND MINIMAX from the list to link to the speaker.

Upon successful pairing, one speaker will play the left channel and the other the right channel for stereo sound.

Control buttons can be used on either speaker. Adjusting the volume on one of them will adjust the volume on both simultaneously.