You must configure the SOS emergency number to use this feature.
SOS number setting:
Via "Menu" -> "SOS":
Set the status of the feature: "Enabled" or "Disabled".
Set the emergency numbers under "SOS number" (1 to 5).
Configure the SOS message. Write the help message you receive to SOS numbers: "I need help!" by default.
Using the SOS function: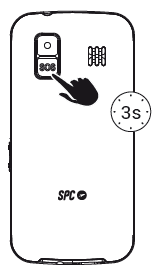 In an emergency, press and hold the SOS button for a few seconds. The terminal emits a warning tone (horn) and starts the ringing cycle. The phone activates the hands-free system and calls the SOS numbers one by one and also sends the SOS message by SMS. If there is no answer, it goes to the next number until one of them answers, this cycle is repeated 3 times.
*Attention* If there is a number left in the voicemail list, the cycle ends.