The DICKENS LIGHT PRO has a backlight control system that adapts to your reading comfort levels. The control adjusts the intensity and tone of the backlight.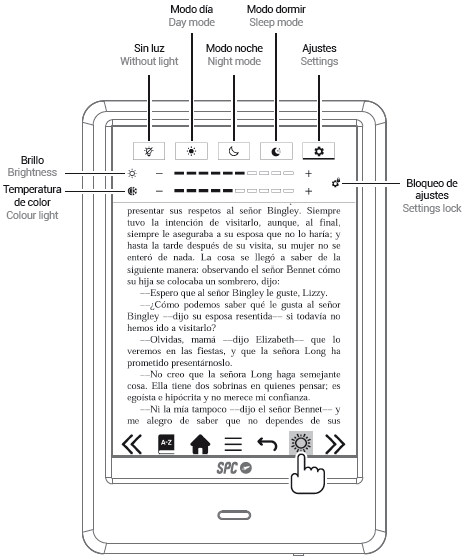 At the bottom of the screen you will see the lighting settings icon. But you see the icon, press at the bottom of the screen to see the touch controls.
By clicking on the lighting icon, the settings menu appears at the top. It has 4 presets and a setting mode that can be customised:
Without light: No backlight.
Day mode: Appropriate for the day.
Night mode: Appropriate for the night.
Sleep mode: Appropriate for reading in bed.
Settings: Allows you to adjust the Brightness (top) and the colour temperature (warm/cold), increasing or decreasing its value by pressing + and -.
Settings lock: It allows simultaneously modifying the two levels.