Power on, charging and battery
info
This article is intended for users of SPC DICKENS LIGHT PRO.
First of all, thank you for trusting in SPC. In this article we will guide you so that you can start using your DICKENS LIGHT PRO.
Turning on your SPC DICKENS LIGHT PRO
To turn it on, you must press the power_settings_new button that you'll find at the bottom for about 5 seconds.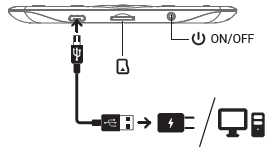 Once you have clicked on that button, the electronic ink screen on your DICKENS LIGHT PRO will turn on.
A short press on this button enters Standby mode (sleep). In this status, a short press turns on the device. This mode is advisable when the reader is used frequently, since it allows for faster start up.
If it is not going to be used, it should be turned off completely. To turn it off, press the button again for about 5 seconds.
Carga
Your DICKENS LIGHT PRO has an internal battery. Before you start using it you will need to charge it with a charger. To do this, we recommend using the USB cable that you will find among the accessories supplied in the box and connect it to a PC or Mac, or to the power supply using a USB charger from your mobile 'phone or tablet (not supplied). It does not matter if the DICKENS LIGHT PRO is on or off, as soon as it is connected, the screen will light up and the charging process will begin.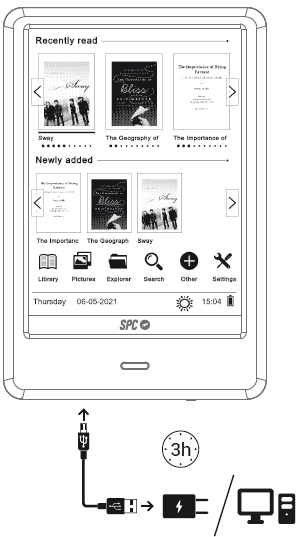 Remember to charge the battery when:
The empty battery icon appears on the screen battery_alert
The buttons do not activate
The reader does not function properly under normal circumstances
Battery life
Your DICKENS LIGHT PRO has a battery life of about 1 month, may vary depending on the mode of use, light intensity and the setting.
"