The SPC ETHER PRO headphones, have 3 filter modes to deal with with the noise around you: ANC, Transparency and ENC.
If you want to listen to music without bothering you, activate the ANC mode (Active Noise Cancellation) to reduce external noise and enjoy your music.
If, on the contrary, you want to be aware of what is happening around you while you wear your headphones, activate the transparency mode so the headphones amplify external noise, without losing the music you are listening to. As if you weren't using anything!
The third mode, ENC, is automatically activated when you're on a call or are you instructing your voice assistant so that the receiver has no problems understanding you due to the ambient noise. The ENC technology, like ANC technology, generates equivalent sound but opposite to ambient noise, reducing it so that your interlocutor listens to you with total clarity.
What is Noise Cancelling technology?
The noise reduction circuit detects sounds coming from from outside using its built-in microphones and sends a reduction signal that is equivalent but opposite to the headphones. By generating this opposite signal, the headphones block a lot of external sound sources.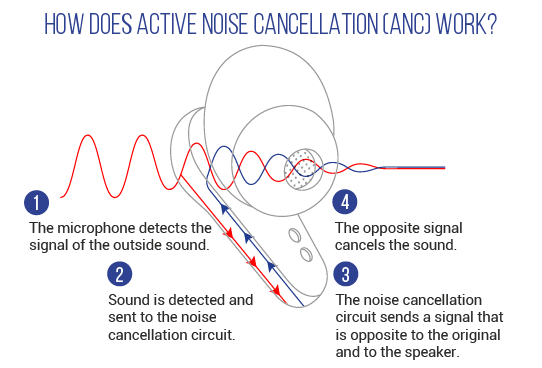 However, remember the following:
In quiet surroundings, the noise reduction effect may not be so noticeable, or some sound may be heard. If there is little environmental noise, it is recommended not to activate the noise reduction function, as it needs an environmental input to function optimally.

Depending on how you wear the headphones, the noise reduction effect may vary or (coupling) beep may be heard. In that case, take out your headphones and put them back in.

The noise reduction function works mainly with low noise frequency (trains, planes, engines, etc ...). Although the noise is reduced, it is not cancelled completely.

When headphones are used on a train or in a car, they may cause noises depending on the surrounding conditions. It is not advisable to wear headphones with noise reduction when driving, since the perception of traffic sounds it is essential for safety.

Mobile phones may cause interference and noise. If this happens, place the headphones further from the mobile phone.

Don't cover the microphones. The noise reduction function or the ambient sound mode may not function optimally or a (coupling) beep may be heard. In those cases, take your hands away from the headphones' microphones.