Calls
If using two SIM cards, the phone will request confirmation on which SIM card to call with before making the calls.
During a call you may make and receive more calls from/to the same number, but you cannot make or receive calls from the other SIM card.
1. With the phone in standby mode, enter the number that you wish to call.
2. Press "delete" to delete wrongly entered digits.
3. Press

and select the SIM card that you want to use to make the call. Press

.
4. When making a call, if the number is saved in the phone book, the name of the contact will appear on the screen.
5. Press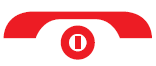 to hang up.
Calling a contact from the phone book:
1. Press "Contacts" on the home screen with the right function key. The screen will display a list of contacts in alphabetical order.
2. Use the up/down keys to move through the list until you reach the desired contact.
3. Press the call key

to call the selected contact.
4. Press the end call key

to hang up.
Making a call from the call history:
1. With the phone on standby, press the key

to open the calls list. You can also access the call history from the main menu.
2. Use the navigation keys to move up and down the list, select a contact and press

to call.
Making a call with speed dialling:
You can also set speed dialling for keys 2 to 9. Hold down the key set as for speed dialling to dial the assigned number.
NOTE: The keys must be set beforehand. See the section "Speed dialling" for more information.
Answering / rejecting a call:
When you receive a call, the number or name will be displayed on the screen. Press the key

to respond or

to reject the call.
In conversation
During the conversation, press "Loudspeaker" to activate hands free mode.
During the conversation, press "Options" to access different options:
• Mute the microphone
• Adjust the volume of the handset
• Access contacts, call history, messages, etc.
• Record the call (a memory card must be inserted into the phone)
• Retrieve / Put an on-going call on hold
With two active calls, you can also:
• Set up a conference call