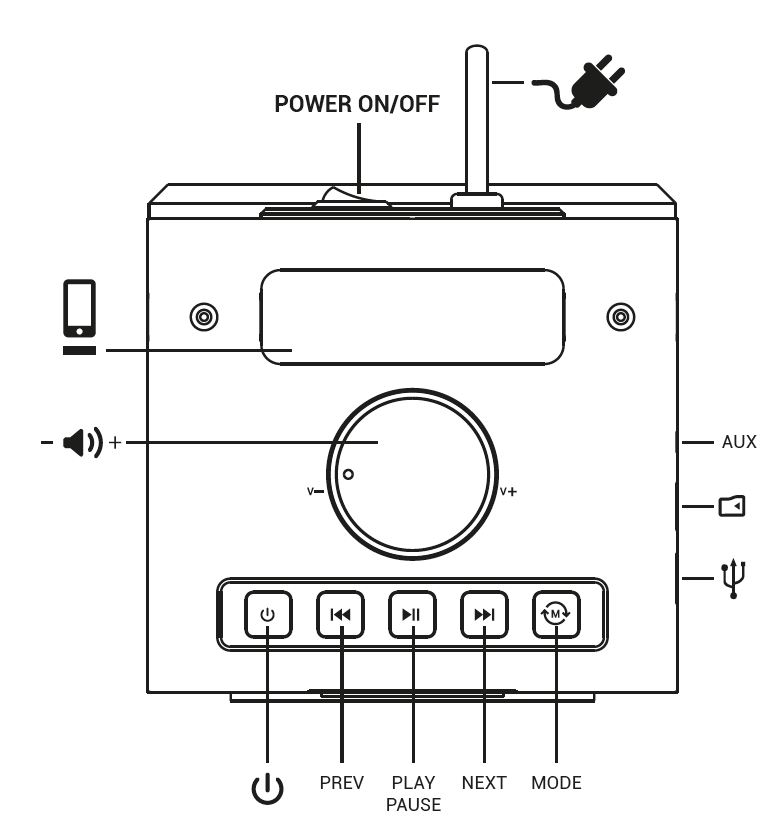 POWER ON/OFF:  On and off switch for the tower
PLUG:  Plug it into a power outlet to provide electricity to the tower.
TABLET/SMARTPHONE SUPPORT:  Place your tablet or smartphone on this support.
VOLUME CONTROL:  Turn this wheel to decrease or increase the volume.
ON/OFF:  On and off the button for the device.
PREV:  Previous song button.
PLAY/PAUSE:  Continue or pause playback button.
NEXT:  Next song button.
MODE: Button to toggle between different device modes.
Modes available on your SPC Hurricane: Bluetooth, FM Radio, Auxiliary, USB and Micro SD.
REMOTE CONTROL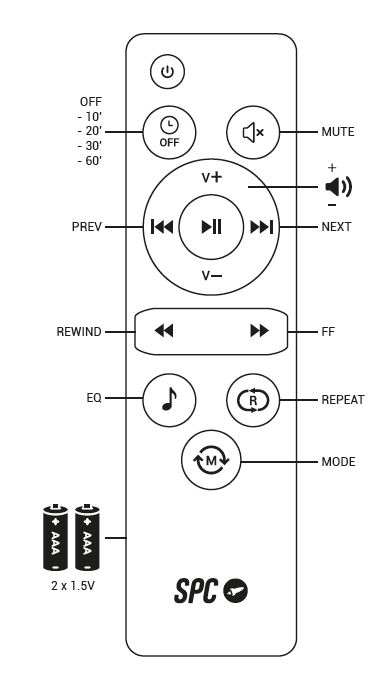 POWER ON/OFF: Button to turn the tower on or off
OFF: Button to program the tower turning off. Press it several times to program turning off after the different periods of time that will be shown on the screen.
MUTE: Press to mute the audio. Press it again to activate the audio of the device.
V+/V- : Press these buttons to increase or decrease the playback volume.
PREV/NEXT: Go back or skip to the next song
PLAY/PAUSE: Press this button to pause and resume audio playback.
REWIND/FF: Rewind and fast forward.
EQ: Press to toggle between the different equalisations that the device has: Normal, Pop, Rock, Jazz, Classic and Country. Equalisations are available in Bluetooth and Micro SD mode.
REPEAT: Switch between the "Repeat all" and "Repeat once" mode.
MODE: Press this button to toggle between the different available device modes.
*To be able to enjoy the remote control functions you will need to insert two 1.5V AAA batteries (not included).