From the main screen of your Smartee GO, you can navigate to manage the settings for of all functions
Main functions
To navigate through the menus, just press the button. The screens you will see are as follows:

To exit a menu, just press the button until getting to the last option.
In the SMS screen you will see the last 7 notifications you have received on the bracelet. Press and hold the button to delete the message
In the functions screen, you can do the following: search your mobile, check your device information, carry out a factory reset, turn your device off or adjust the brightness of the screen.


A factory reset will erase all data and the date and time will be set to 1/1/2017 and 00:00, respectively
Deportes
On the sports page, you can access the 4 sports integrated into the bracelet:
-Skipping rope, Table tennis, Tennis and Badminton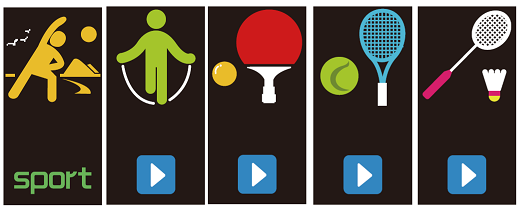 To start a sport, simply press and hold the touch button for a few seconds and the bracelet will start monitoring it. To finish it, while on the sport screen, press and hold the button for a few seconds.
Remote camera
To use the remote camera function on this equipment, you must first access this mode through the SMARTEE application of your mobile device or tablet. Once in camera mode, the wristband display will turn off and to take the photo, you will have to do a couple of quick wrist turns.