This article explains how the Calibre application can be great for managing our personal library of DRM-free books and the content of your Dickens. It works on both Mac and Windows and is maintained by the community.
Installing Calibre
To install Calibre we recommend that you visit its website, calibre-ebook.com, and select the version you want to install depending on your computer's operating system.  
Windows installation
Once you have downloaded the installation file for your version of Windows, please double click on it, accept the security warnings, and follow the steps in the installation wizard.
Mac installation
Once you have downloaded the Mac installation file, please double click on it, enter the administration password and follow the steps in the installation wizard.
Using Calibre
The information in this article focuses its explanation on the Windows version. The Mac version is very similar.
Set up your Dickens
To configure your Dickens, connect it using the USB cable supplied among the accessories to your Windows computer or Mac.
Once connected, click on the 'OK' option that will appear on your Dickens screen. After clicking on 'OK', the screen of your Dickens will show that the connection has been made successfully.
Next, open the Calibre application and follow the assistant:
Select your language and the folder on your PC or Mac where you want your library information stored and click on 'Next':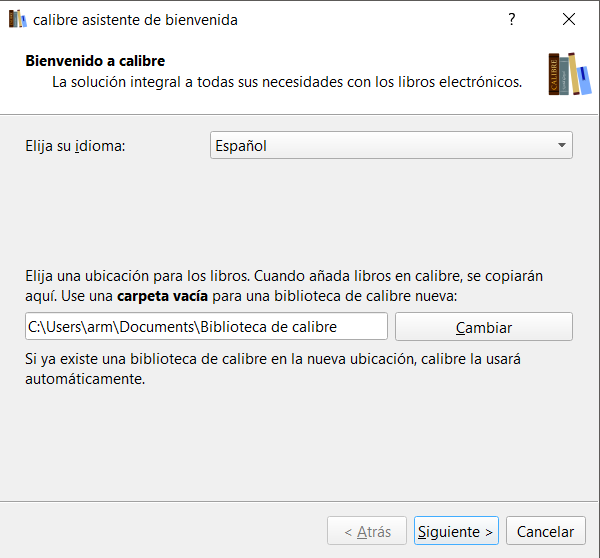 A continuación selecciona fabricante 'Generic' y dispositivo 'Generic e-ink device' y pulsa sobre 'Siguiente':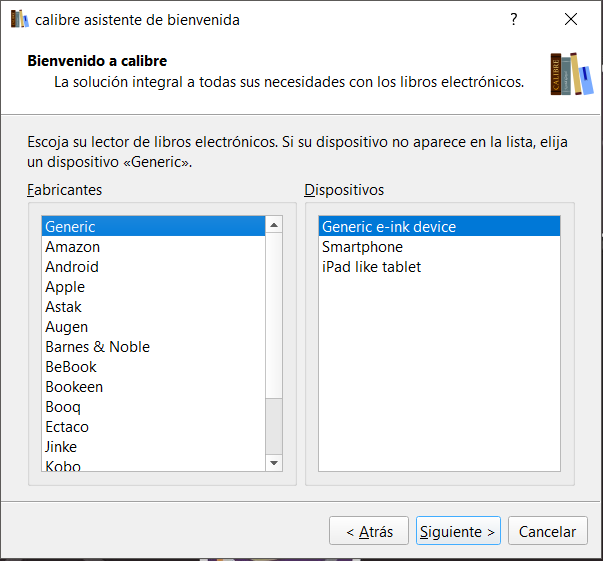 Finaliza la configuración pulsando sobre 'Finalizar'
A partir de este momento, ya estás listo para usar 'Calibre'. You can get more information about how to use this application in the following section 'Calibre User Manual'.
Calibre user manual
You can find a very complete and updated manual about Calibre here.