In this guide you will find all the features of your wireless camera.
Once the installation is finished, you have your home or office under control, even if you are
miles away.

Take care of your home, your office, your pet, or check that everything is going well at the home of elderly family members and all with a couple of taps on your smartphone or a couple of voice commands.

To do this, you can use the Orange Smart Home ES app or you can integrate it into your Alexa account using the Alexa skill or into your Google Assistant account, through the Google Home Orange Smart Home ES action.
Your camera panel
If you want to access all the functions of your wireless camera, we recommend that you open the Orange Smart Home ES app and, in the list of devices linked to your user account, click on the camera you want to access.

Pressing on the camera opens its panel, which gives access to all the functions.
This panel shows:
Video capture in real time
The shortcut bar
The functions menu
Access to the Settings menu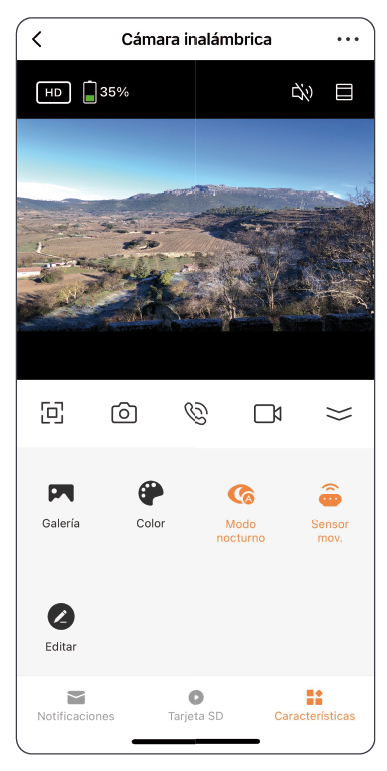 Shortcuts Bar
Allows access to the most common functions of the device:

Take a snapshot
Record a video
Voice communication
Full screen video
Functions menu
The menu consists of 3 tabs:
Notifications: Collect all notifications from camera activity logs.
SD card: access all the recordings on your SD card.
Features: contains the controls for the advanced functions of your camera.
Motion detection
Your camera includes smart algorithms to detect movement, as well as to send you a notification if you wish. You can manage this option from the 'Features' tab of the 'Features Menu'.
Check all the notifications in the notification centre of your smartphone or from the 'Notifications' tab of the 'Functions menu' within the Orange Smart Home ES app.
Two-way communication
Your has a highly sensitive microphone, which allows you to record videos with sound, but it also
incorporates a small speaker to send a deterrent message in the event of an intrusion or even allows you to use the camera as an intercom.
You can access this function from the 'Shortcuts Bar' in your Orange Smart Home ES app.
You can also choose between a 'Telephone' type communication where both people can speak simultaneously (Full duplex) or 'Walkie talkie' (Half duplex) type where only one person can speak at a time. Configure the 'Audio mode' in the option 'Basic functions configuration' of the 'Settings menu'.
Night mode
Your Wireless Video Surveillance Camera watches day and night, offering you a high quality image, also in night mode.
You can activate this function from the 'Features' tab of the 'Functions Menu'.
Multi-screen
Your camera is compatible with the app's multi-screen mode and that is, if you have more than one camera, you can view all of them simultaneously on the same screen.
Integration with Alexa
If you are an Alexa user, you can control your camera from a compatible speaker using voice commands.
To do this, access the 'Settings Menu' of your camera and activate the Orange Smart Home ES skill in your Alexa account.
Integration with Google Home and Google Assistant
If you are a Google Home and Google Assistant user, activate the Google Assistant Orange Smart Home ES action from the Settings menu of your camera and you will be able to interact with it through your Google account.