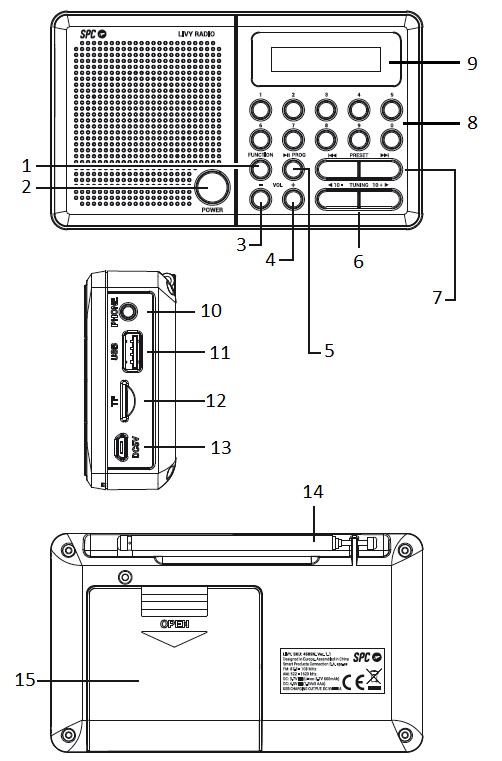 1. SPEAKER.
2. FUNCTION: Radio / USB / Micro SD.
3. ON / STAND BY : Press and hold to turn on and press and hold to turn off the radio.
4. VOL - : Press to decrease the volume.
5. VOL+ : Press to increase the volume.
6. PROG : Automatic tuning. With the radio on, press and hold to store all stations automatically. Press to save the station manually.
7. TUNING 10- / 10+: Manual tuning. With the radio on, press and hold to manually tune.
8. PRESET

/

Press to scroll through the tuned stations.
9. 1/2/3... : Selects the stored station number to tune to.
10. DISPLAY.
11.

Headphones input (not included). If you use headphones, the batteries will last longer as the consumption is the lowest possible.
12. USB: Insert a USB device to play its content.
13. TF: Insert a Micro SD card to play its content.
14.DC 5V: Input for external power supply (not included) and battery charging.
15. TELESCOPIC ANTENNA. Spread it out for better tuning.
16. BATTERY COMPARTMENT or BATTERY: At the back of the unit. Uses 3 x 1.5V ALCALINE batteries type 17. LR6 AA (not included). You can also use the rechargeable Li-ion battery 3.7V 800mAh mobile type (included).